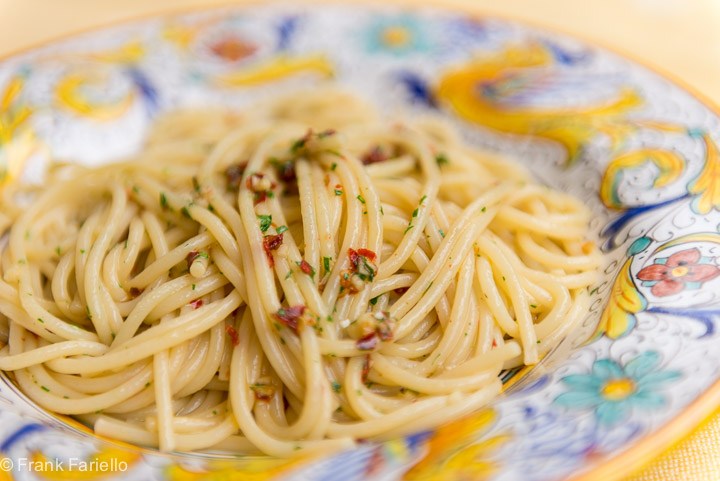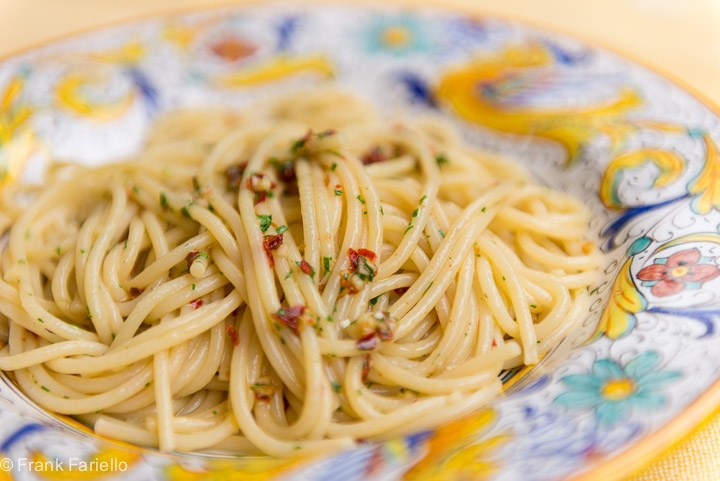 Anchovy dripping linguini by Erminia Cuomo
Linguine alla colatura di alici (anchovy Dripping Linguini) by Erminia Cuomo.
The "colatura di alici" (Anchovy Drippings) recipe originated around XIII century by the Cistercian monks from St. Peter in Tuscolo rectory, a hill nearby Amalfi. The Cistercians owned a small fleet used to carry wheat, and in the summer season, was also used for anchovy fishing.
The anchovycaught was then stored in barrels, where the fish, deprived of the head and entrails and layered with salt, pressed by the weight of a huge stone to allow the brine to collect at the bottom of the barrel, but, because of the old and unglued staves, the liquid dripped away on the floor.
The monks collected this scented liquid in containers and began to use it to dress vegetables. This new dressing was donated by the Cistercians to neighbouring convents and to some local citizens who started to produce it by themselves.
Today, Erminia Cuomo from Hostaria Bacco in Furore (Salerno) gives us of her recipes that best  preserve the unique flavours of the ancient local cuisine: Linguine alla colatura di Alici (Anchovy Dripping Linguini).
"Linguine alla colatura di alici" by Erminia Cuomo.
Ingredients for 4 Servings:
350 g. Linguini
10 Gaeta olives
5 sweet green olives
1 tablespoon desalted capers
½ garlic clove
red pepper as desired
6 walnuts kernels
1 dl of extravirgin olive oil
1 tablespoon colatura di alici (anchovy drippings)
lemon juice as desired
Preparation:
Boil linguini and drain them before to the bite, that is to say "al dente".
Make the sauce: put in the mixer all the other ingredients except colatura and lemon juice and blend everything.
Add to the mixture the last two ingredients and bland again to incorporate.
Finally, mix the sauce with cooked linguini in a large bowl.
Enjoy!
Erminia Cuomo – Hostaria Bacco in Furore (Salerno