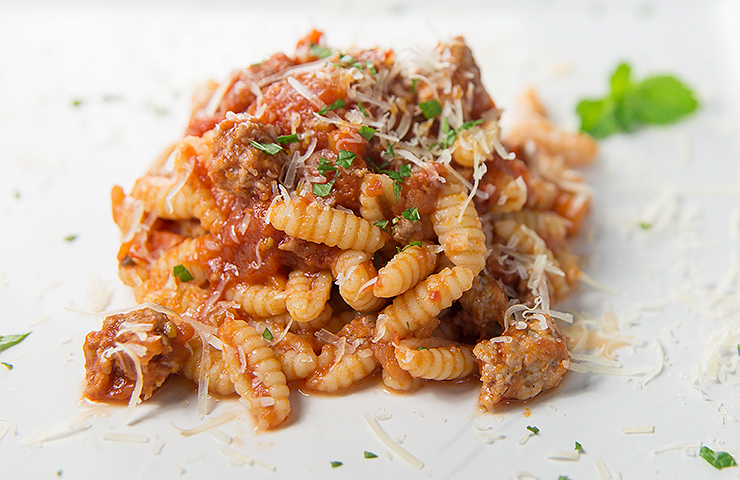 Malloreddus with sausage ragù sauce
Ingredients for 4 people: 
malloreddus 320 g 
sausage 300 g 
tomato sauce 200 g 
tomato in pieces 150 g 
extra virgin olive oil 
carrots 2 
onion 1
hot chili pepper
salt 
aged Sardinian pecorino cheese 
Finely chop the onion and cut the carrots into small cubes. Prepare a pan on the stove and let it warm up. Pour the extra virgin olive oil and, once hot, lay the chopped mix of carrots and onion, add the chili pepper and let it all wither. Add the sausage previously cut into small pieces (after removing the skin that surrounds it) and cook it over low heat. Now add the chopped tomatoes and tomato puree. Pour in a glass of Cannonau red wine and finally add salt. Simmer for at least two hours. 
Half an hour before the sauce is ready, put on the fire a pot with water, wait for the water to boil and add salt. Pour the malloreddus into the boiling water. A couple of minutes before the recommended time, drain the malloreddus and complete cooking, over high heat, in the sauce. This phase is called "mantecatura" and it will be perfect if you add some water in which yu have previously cooked the malloreddus and some grated aged Sardinian pecorino cheese. Serve with a new sprinkling of pecorino cheese and a drizzle of raw extra virgin olive oil.