Japanese noodles: the high-quality J-MOMO signature

The leading company in fresh, artisan and filled pasta launches its oriental pasta for the catering market.
Soy noodles, rice noodles, sushi rice and other types of oriental pasta are now an integral part of the western diet, especially for Europeans. In just a few years, these exotic pastas have become familiar and sometimes daily dishes. The typical lightness of Japanese noodles and its many variations have won over the Italian public. This is why J-MOMO, the leading company in the production of fresh, artisan and filled pasta, has decided to devote an entire line to oriental pasta for the catering industry. An array of traditional Asian cuisine proposals, made with fresh ingredients and the high quality that has always distinguished the company. The ideal solution for all restaurants, whether Japanese or otherwise, that want to incorporate outstanding products into their menu.
Japanese noodles, sushi rice and oriental noodles of all shapes: tradition made simple
A characteristic of Japanese and Asian noodles in general is the careful production process. The different varieties of oriental pasta and its ingredients, often gluten free, require specific skills and knowledge. The use of durum wheat flour is not widespread. Alternative flours such as rice or buckwheat are favoured instead. The properties of these products give them a very different yield and often require patient and delicate preparation. J-MOMO has specialist chefs, experts in Asian cuisine and its secrets at its disposal. Furthermore, the company selects only the best ingredients for the preparation of exquisite traditional dishes of Japanese cuisine and beyond.
From noodles to ramen noodles, sushi rice, rice noodles, soy noodles, shirataki, soba, udon, somen, gyoza and japchae.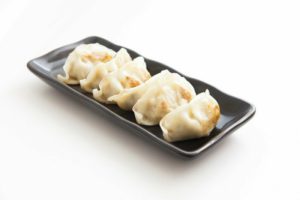 Contact J-MOMO to receive all information on the products available for the catering industry.
Oriental pasta for catering and sushi rice: excellence is always available.
The success of Japanese, Chinese and Vietnamese noodles often clashes with the inability to meet the constant growth in demand. J-MOMO satisfies this need with highly professional, tasty and consistently available quality products. The ideal solution to enjoy all the advantages of an extraordinary cuisine, without the costs of self-production. In addition to the careful selection of raw materials and the mastery of its chefs, J-MOMO adopts a careful freezing process. This ensures that the organoleptic properties of the products remain intact without affecting the yield when cooked. This is why J-MOMO pasta and sushi rice have always guaranteed safety, taste and professionalism.
Soba, udon, somen, ramen: long Japanese noodles
In addition to the famous gyoza dumplings and sushi rice, Japanese cuisine boasts a wide range of long noodle varieties. So many different noodle types to meet the special requirements of each recipe. Japanese noodles are initially subdivided between soba, udon or somen. In the first case, it is a long variety made from buckwheat, cooked particularly in the Tokyo area. Udon and somen are, on the other hand, noodles typical of Kyoto and Osaka. Udon are cut wide like tagliatelle and can be made from wheat or rice and tapioca flour. Suitable for soups and broth, they are also excellent sautéed. Somen, on the other hand, are very thin noodles made from wheat and vegetable oil and can be paired with numerous meats, fish or vegetable recipes. Added to these are the typical ramen noodles, made with wheat flour and kansui. Kansui is a particular alkaline solution, with potassium carbonate and sodium bicarbonate, which gives the dish a distinctive taste. J-MOMO produces all varieties of Japanese noodles and sushi rice for the catering industry, respecting the traditional ingredients and procedures.
Japchae, shirataki, soy noodles and rice noodles: all types of noodles.
When talking about noodles, a number of types come to mind, although they share the typical "vermicello" shape. In addition to Japanese noodles, Chinese, Korean, Vietnamese and Thai varieties come in different variations. Rice noodles, soy noodles and rice noodles are highly appreciated and versatile noodle types.
These varieties of oriental noodles are ideal for a great number of recipes. From pad Thai (rice noodles sautéed with prawns, peanuts and sprouts) to rice noodles sautéed in a wok with vegetables. Added to these varieties are japchae and shirataki. Japchae are Korean noodles made from sweet potato, seasoned with sesame oil, meat and vegetables. Shirataki are Japanese noodles made from the root of a subtropical plant called konjac and boast a very low calorie content.
Discover all varieties for catering among the J-MOMO product range.
Gyoza for pan-cooked and steamed recipes: tasty dumplings with meat, fish and vegetables.
A list of the most famous Japanese noodle types wouldn't be complete without gyoza. The much-loved dumplings stuffed with beef are some of the most requested appetisers found in this cuisine. J-MOMO produces gyoza for the catering industry to be pan-cooked or steamed. Given the success of this product, the company also offers fish gyoza and vegetable gyoza to meet all consumer tastes.
Oriental noodles, ramen and sushi rice for alternative menus.
One of the many qualities of oriental noodles is that they are healthy. Many types of Japanese noodles, such as thin rice noodles, rice noodles and soy noodles, are also suitable for celiacs. For example, soba is made with 100% buckwheat. In addition to soba, sushi rice is also completely gluten free. Ramen has a gluten-free variant when prepared with soy noodles, known also as cellophane noodles, or with rice noodles. Traditional ramen, however, much like japchae, are not celiac friendly. Finally, worthy of a place of honour are shirataki: this type is not only gluten-free, but also ideal for diabetics.
Contact J-MOMO for information on all varieties of oriental pasta and sushi rice available and their respective dietetic properties.